Parents and other family members are welcome to join us for the International Latin Olympiad in Rome in July 2023. There will be additional sightseeing and cultural opportunities (many of which will not need to have an Ancient Rome theme). IAC will help organize these events so that parents can socialize in a convenient way, with pick ups and drop offs at the school, but parents will need to book them separately through links we provide. IAC can also provide travel tips for anyone who is interested in visiting other destinations in Italy including Florence, Venice, Cinque Terre, Amalfi, Capri, and more. Parents are also (and encouraged) to watch certain events at the Olympiad, including the nightly medals ceremonies.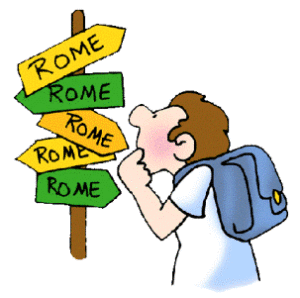 SPQR in Ancient Rome in the Forum
Much will also depend on the timing of special events and festivals in Rome that will be going on in Summer 2023. Feel free to peruse the internet and let us know if there are other experiences and tours you'd be interested in seeing us help organize.